Somerset County Council approves £4m cut to its budget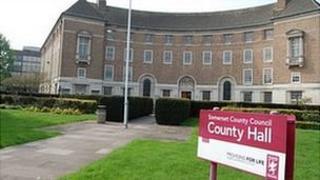 Cuts of £4m to next year's budget have been approved by county councillors in Somerset.
The saving is the first phase of the Conservative-led authority's efforts to cut £30.4m from its 2014/15 budget.
The financial plan was agreed at a full council meeting at Shire Hall, earlier.
A reduction in government funding, increased costs and rising demand on its services, has been blamed for a "black hole" in the council's finances over the next four years.
In his closing speech, Somerset County Council leader John Osman said: "We live in the real world where tough choices have to be made.
"This is just the tip of the iceberg - I reluctantly ask council to approve these proposals."
The measures were backed by Conservative and UKIP councillors with Liberal Democrat, Labour and Independent members voting against.