West Somerset Railway sell-off considered by county council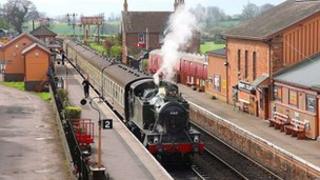 A heritage railway in Somerset could be sold off under plans being considered by the county council.
Minehead's West Somerset Railway (WSR), which uses historic steam locomotives, is run by West Somerset Railway plc.
The company leases the land from the authority, which owns the freehold, but now the council is looking to sell.
A council spokesman confirmed it was "exploring potential interest from two parties who have expressed interest" but no decisions had been taken.
The 20-mile (32 km) line between Minehead and Taunton was closed by British Railways in 1971 as part of the Beeching cuts.
The following year, the council bought the branch line and leased it to the WSR.
Independent councillor Mike Rigby, said the railway now attracts more than 200,000 visitors a year and "puts £10m into the local economy".
"There's a bid from the West Somerset Railways Association, a support charity, and a bid from the West Somerset Railway PLC that currently operates the railway," he said.
"Whatever comes out of this process, we have to make sure, very sure, that the railway can continue to operate."
A West Somerset Railway Plc spokesperson said it was unable to comment at the present time.