Crane breeding habitat created on Somerset Levels and Moors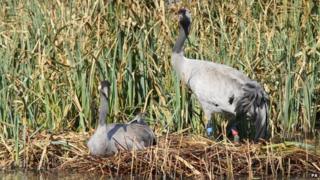 Farmers on the Somerset Levels are being encouraged to create new breeding habitat for common cranes as part a project to reintroduce the species.
Cranes reared from eggs at the Wildfowl and Wetlands Trust in Gloucestershire have begun nesting in southern England, for the first time in about 400 years.
The RSPB, a partner in the project, is enlisting the support of local farmers to create new breeding zones.
The project aims to have 20 breeding pairs in the area by 2025.
Hay meadows
Farming families across the Levels and Moors have been working with a team of conservationists to create new wetland areas where they hope the cranes may breed.
The breeding areas feature small pools, surrounded by tall fen-type vegetation and hay meadows in undisturbed areas.
Sam Mitchell, whose farm is under the flight path of the cranes, has just finished converting some of his land into crane-friendly habitat.
"We see them flying overhead every day, but it could well be two or three years before the cranes settle here," said Mr Mitchell. "We're looking forward to monitoring the situation."