Cross installed in Bath crematorium following petition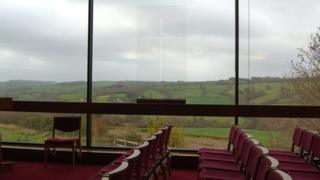 A "removable cross" has been installed on a window at a crematorium in Bath following a 4,000-strong petition.
Bath and North East Somerset Council had replaced a window etched with a cross at Haycombe Chapel with a plain window, as part of a refurbishment.
The authority had wanted to remove the etched window to make the building more accessible to all faiths.
But following a petition, the council agreed to install a clear acrylic cross that can be removed on request.
Installed at the crematorium when it was built 50 years ago, the cross-etched window was replaced as part of a £140,000 refurbishment.
A council spokesman said the new cross would allow congregations to "see views across open green fields" and could be removed on request for non-faith services.
Councillor David Dixon said the "expertly designed cross will be used for generations to come".
Despite its name, Haycombe Chapel is not a consecrated space and is not a church or church-owned building.