Somerset men rescued after boat carried out to sea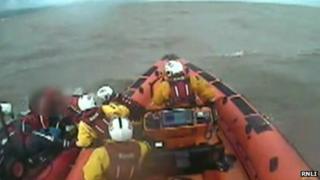 Two men have been rescued after one of them fell from a boat in adverse weather off the coast of Somerset.
Swansea Coastguard said the man was airlifted by a Sea King helicopter close to the Minehead shore.
He was taken to hospital in Cardiff suffering from hypothermia. The second man was taken back to land by boat.
A spokesman said it was thought the pair were in a rigid-inflatable boat when the weather worsened and the man fell overboard.
The coastguard said the swell had started to carry the boat out to sea after the fall.
The RNLI said the pair, named as Tom Wright, 30, and Dan Hawkins, 31, from Taunton, had left in the boat from Watchet in the early hours of the morning to go fishing.
'No radio'
Mr Wright said he managed to "grab" his friend and "pull him in" when he fell off the boat.
"I don't suppose he spent more than 30 seconds in the water but it was clear he was very wet and very cold and starting to lose interest in things. That's when I decided to phone the coastguards."
David Jones, from Swansea Coastguard, said "the conditions proved too tricky" and the pair were "struggling to cope against the tide and strong winds".
"One of the men had also fallen into the water, but managed to get back on board quite quickly. Luckily, both were wearing lifejackets.
"However, they did not have a VHF radio on board so the only way to raise the alarm was to call us on a mobile phone."
RNLI spokesman, Chris Rundle, said: "Once the wind got up conditions became very nasty indeed and they really did find themselves in the wrong place at the wrong time."