Somerset flooding: North Curry resident stuck for 13 days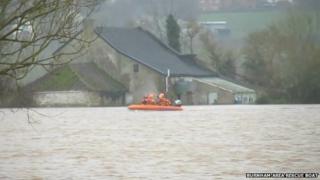 A homeowner who was stranded on the Somerset Levels for almost a fortnight has been rescued by boat.
Anne-Marie Simpson and her dog Elvis were taken via a window by a rescue crew from her home in North Curry.
She had asked to be evacuated while the Burnham Area Rescue Boat (Barb) team were checking on flooded properties.
"I had been in the house for 13 days and was keen to get away. The scale of the flooding has taken us by surprise," said Ms Simpson.
She had been living upstairs since 23 December, when floodwater first entered the property, eating supplies bought in advance of the pre-Christmas storms.
Ms Simpson, who is in her 50s, has been taken to dry land half a mile away to stay with friends until the water recedes.
The BARB rescue crew had been in the area carrying out training when they checked on the welfare of several residents and Ms Simpson asked to be evacuated.
A builder who was living in her home to install flood defences has chosen to remain in the property.
Volunteer Mike Lowe, from the charity, said: "We were very happy to help this lady and her dog, who had been stuck since before Christmas.
"It was so gratifying to see the look of relief on Anne-Marie's face when we got her back onto dry land."
'Lethal'
Forecasters have warned of "colossal waves" and winds of up to 70mph to cause further flooding as some coastal areas take another battering.
John Hammond, a BBC forecaster, said the picture could be worse than that seen over the last couple of days and waves "are going to be absolutely lethal if you get in the way of them".
Some eight flood warnings remain in place on rivers and moorland across the county, with a similar number of flood alerts in place as well.
Also, the A361 and A372 remain closed in parts due to flooding.
The BBC's Andrew Plant, in south Somerset, says the village of Muchelney has been cut off for about four days.
"On a day when many people are just going back to work after Christmas and the new year, for people in Somerset the going is very difficult indeed - and for the villagers here they are not going anywhere anytime soon," he said.