Rescue boat takes flood-hit Muchelney's children to school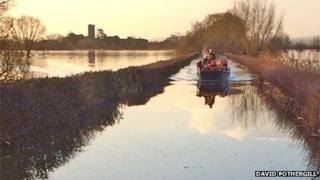 Children living in a Somerset village that has been cut off by flood water have been travelling to school by boat.
More than 100 residents of Muchelney have been cut off since 3 January because access roads are under water.
The eight-seater boat is run by the fire service and paid for by Somerset County Council.
The boat is making three trips a day and is also being used to transport food, medicines and other supplies.
The chairman of Somerset County Council, David Fothergill, said the local authority was pleased to help the community during this "extremely unfortunate" situation.
"School children have been using the boat to get to and from school and I think that it's important that we are here to support a community in need."
Mr Fothergill said the local authority had started a campaign, Fairer Funding for Somerset, which is calling on the government to protect it against the "devastating effects" of flooding.