'No evidence' for speed camera return, says police chief Nick Gargan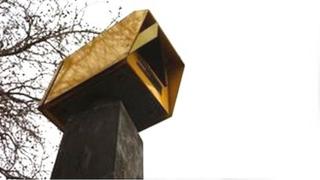 There is "no evidence" to support the reintroduction of speed cameras in Avon and Somerset, a chief constable has said.
In a letter to Somerset County Council, Nick Gargan said figures showed no increase in accidents, injuries or deaths at deactivated cameras sites.
The cameras were turned off in 2011 after the area's safety camera partnership was dissolved.
Road safety charity Brake claimed fixed cameras were "exceptionally effective".
Mr Gargan told Somerset Council, in a letter obtained by the BBC, that he believed the camera boxes still had a "deterrent effect" but added they should either be reactivated or taken down.
Otherwise, he warned, the cameras would become a "widespread laughing stock".
But he told the council that at the current fixed camera site there had been "no evidence" of a rise in casualties since they were deactivated.
A force spokesperson said Mr Gargan, based on national research, felt "on the balance of probabilities" the cameras were better on than off, but said the force had commissioned no local studies.
'Deeply concerning'
John Osman, the leader of Somerset County Council, told Mr Gargan he did not believe there was a "compelling case" to reintroduce the fixed site digital cameras.
But Brake spokesman, Richard Coteau said it was "deeply concerning" that the cameras were "still being questioned when evidence for their effectiveness is so robust".
"While local authorities have been put in a difficult position by government cuts to road safety funding, we urge them to do everything they can to keep cameras running and reactivate decommissioned cameras," he said.
"Removing camera boxes completely is certainly the wrong move, and would put local people at risk," he added.
Mr Gargan, who became chief constable a year ago, began talks about turning speed cameras back on in the summer.
One pound offer
Bristol mayor George Ferguson first proposed the idea, which led to letters being sent to all of the local authorities in the Avon and Somerset area.
Later, Mr Gargan offered councils £1 to buy each speed camera.
But, Somerset council's Mr Osman said he would only consider renting the camera sites back to the police.
He said as the authority was having to find £106m in savings over the next four years he was reluctant to commit council officers' time and expense to "assisting this project".
Mr Osman also criticised the police force after a paper, written by Supt Ian Smith, referred to revenue from speed camera fines as "profit", saying it was a "poor choice of words".