Somerset County Council reveals budget plans to save £18m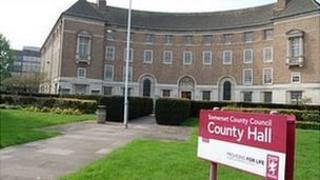 Up to 100 jobs are to go and £900,000 is to be cut from youth and community services in Somerset as the county council tries to save more than £18m.
The proposals will include cutting sheltered housing provision by £500,000 and the closure of two council-run recycling sites.
Council tax will also be frozen for the fifth year in a row.
The authority's leader leader John Osman said they had to make "tough choices" and "something has to give".
He added: "It is not something we want to do, but it is something we have to do - just as every council in the country is now doing.
"We are taking people's views into account where we can - that's why our council tax is frozen, but these are tough financial times."
Some £300,000 will also be saved from library services by introducing a range of measures including self service.
Major policy changes are also being proposed. These include helping vulnerable elderly people stay at home for longer instead of moving into residential or nursing homes, which it is thought could save the council more than £1m over four years.
"I understand that people want their services to remain the same, but we face such financial challenges that we have to reduce or even stop some of what we do.
"I do want to stress that while we have made savings to balance our budget, we are still spending more than £300m on the important frontline services that our residents need."
The council's budget will be decided on 19 February.