Somerset County Council boss Shelia Wheeler absent for seven weeks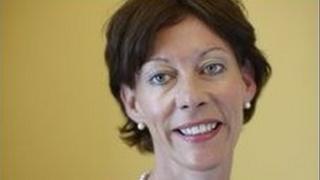 An MP has called on the government to investigate why Somerset County Council's chief executive has been away from her £160,000 a year job since November.
BBC Somerset were originally told Sheila Wheeler was on holiday, then off sick, and now "away from the office".
Liberal Democrat MP for Somerton and Frome, David Heath, told the House of Commons members of the council had been "gagged" from talking about the issue.
The council has declined to comment.
Ms Wheeler has now been absent from her job for seven weeks.
Ms Wheeler replaced Alan Jones who took early retirement in July 2009 - a couple of months after the Conservatives took control of the authority from the Liberal Democrats.
At the time the council said it came to "an amicable agreement" with Mr Jones about his departure.
'Doing nothing'
Mr Heath has urged the Leader of the Commons Andrew Lansley to make sure ministers step in.
Speaking in the Commons he said: "In Somerset, the county council and the then leader fell out with the chief executive and sacked him in 2009, costing Somerset council tax payers over a third of a million pounds.
"It now appears exactly the same thing is happening again, the present chief executive is, I quote, 'out of the office', and has been for seven weeks.
"No statement has been made by the council and members of the council have been gagged by a confidentiality clause.
"Can he ask the Secretary of State for Communities and Local Government to investigate this?"
Mr Heath told BBC Somerset: "I think the people in Somerset have a right to know what's going on and the fact that it is potentially costing us a lot of money.
"If nothing else, we have a very highly paid officer, who as far as I know has performed well for the council, being paid a very significant amount of money each week for doing nothing."
'No comment policy'
Mr Heath, along with Taunton Deane MP Jeremy Browne and Wells MP Tessa Munt, have said the leader of the council, John Osman, needs to start answering questions about what is happening.
"If she is going to leave the council, then to lose one chief executive is a misfortune, to lose two looks like carelessness," he said.
A Somerset County Council spokesman said: "Sheila Wheeler continues to be away from the office.
"The responsibilities of the chief executive as head of paid service are temporarily being carried out by the deputy chief executive Pat Flaherty.
"This council has a strict policy of not commenting on employees and this continues to be the case."