Somerset floods: Extra £100,000 to be spent on pumping water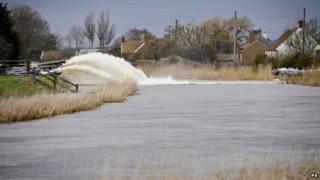 An extra £100,000 a week is to be spent on pumping water from flood-hit areas of Somerset, the environment secretary has announced.
Owen Paterson told the House of Commons 200 people were still cut off in the villages of Muchelney, Thorney, Oath, Stathe and North Moor.
Mr Paterson said 21 properties remained flooded in the area.
He added that over 7,500 properties have been flooded since the start of December.
He claimed that existing flood defences meant over 1.2m homes were protected from flooding since the onset of the "exceptionally unsettled weather".
Mr Paterson said: "On January 29 the prime minister confirmed that dredging would take place on the moors and levels as soon as it was safe and practical to do so.
"This will build on the targeted dredging of the Tone and Parrett, which the Environment Agency began in the autumn.
"This will build on (what) the Environment Agency already spends annually on flood-risk management in Somerset and the £100,000 a week currently being spent on pumping operations on the moors and levels.
"Local authorities, residents and emergency services have been working around the clock to make sure people are safe."
He said the Environment Agency was carrying out the largest pumping operation ever undertaken on the Levels.
He added the agency had brought in extra water pumps and was pumping one million tonnes of water a day.
In a separate development, the Conservative MP for Bridgwater and West Somerset has called for the chairman of the Environment Agency to resign over the handling of the flooding crisis affecting the county.
'Town or country'
Ian Liddell-Grainger said Lord Smith of Finsbury had put up a "smokescreen of guff" to "hide his own failings" as chairman of the agency.
"We had to put up with an awful lot of guff from Chris Smith when he was a Labour minister," he said.
"Now the noble Lord Smith is at it again, putting up a smokescreen of guff to try to hide his own failings as chairman of the Environment Agency - one of a mere 11 posts he holds.
"As if in some way to soften the impact of the catastrophic flooding which Environment Agency negligence has visited on Somerset Lord Smith has decided to pontificate."
He made the comments after Lord Smith had written in the Daily Telegraph that Britain may have to choose whether it wants to save "town or country" from future flooding because it is too costly to defend both.
He said "difficult choices" would have to be made over what to protect because "there is no bottomless purse" to pay for defences.
Mr Liddell-Grainger said: "What a pity he hadn't communicated the latter message to his own managers in the South West when they decided to embark on a lunatic scheme to create a nature reserve dressed up as a bird sanctuary at Steart, on the Somerset coast, a project with an eventual bill of a purse-draining £31m."