Chew Magna £200,000 flood measures pilot scheme proposed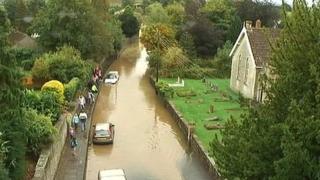 A £200,000 pilot scheme to test flood protection measures in Chew Magna, Somerset, is being proposed by the council.
Bath and North East Somerset Council wants to install pumps and barriers in 69 homes in the village to find out "what works best".
The village was hit by serious flooding in 2012, during which one person died.
A decision is due to be made at a council budget meeting on 18 February.
To reduce the risk of flooding and limit flood damage, the 69 properties in the pilot zone have already been given flood boards and automatic airbricks which close up when homes are hit by flooding.
'Help with insurance'
And in 2011, £325,000 was spent on flood defences funded by Defra and the Environment Agency.
Council leader Paul Crossley, said the authority was "doing everything it can" to support residents.
"What we want to do is look at a range of flood protection measures so that we can help householders, so that we can get information to their insurers so they've got a better chance of getting insurance and so we can see what really works," he said.
"And we feel this is the right time to propose investing a further sum of money into enhanced measures."
Mike Curtis, from Chew Valley Flood Forum, said it would be "very, very good news for the village" if approved.
"We need to work with the authorities on ensuring everything that can be done, is being done and this grant is just the beginning," he added.