Somerset Levels floods: 'Danger to life' alerts issued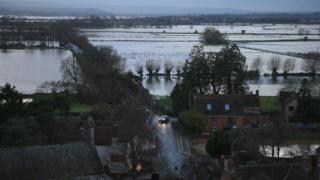 Two severe flood warnings remain in place for part of the Somerset Levels, signifying a danger to life.
The Environment Agency (EA) said the first was for the A361, between East Lyng and Burrowbridge and the second for Saltmoor and North Moor.
People in Fordgate, North Moor and Moorland are being advised to evacuate, with the council estimating up to 150 properties could be affected.
River levels are continuing to rise and more rain is forecast.
The Environment Agency said the risk of flooding to properties in the area has increased because large volumes of water are spilling out of Currymoor Reservoir.
The River Tone and Currymoor drain levels are rising by 15 mm per hour, a spokesman said.
During Prime Minister's Questions on Wednesday, David Cameron announced £10m for urgent flood work in Somerset.
He also pledged £75m for repairs over the next year and £15m for maintenance as part of a nationwide package worth 100m.
He said: "Whatever is required, whether it is dredging work on the rivers Tone and Parrett, whether it is support for our emergency services, whether it is fresh money for flood defences, whether it's action across the board, this government will help those families and get this issue sorted."
Issuing the severe flood warnings for Somerset, the EA said there was "an imminent risk" a retaining wall at Baltmoor will overtop.
An amber weather warning has been issued by the Met Office for further rain falling on the Somerset Levels lasting until Saturday.
Supt Ian Wylie from Avon and Somerset Police said: "The river Parrett is breaching the banks at Burrowbridge which is causing flooding down into Northmoor, so we're advising people to leave their homes because of the severe flood warning.
"We can't force people to leave their homes and many will have chosen to remain, but the advice is to leave. It's a very dynamic situation, and the waters are rising."
A police helicopter used a public address system to alert residents and a rest centre was set up at North Petherton bowling club.
A second rest centre set up at Westfield Church in Bridgwater earlier has now been closed because of a lack of demand, a Sedgemoor District Council spokesman said.
'Nothing left'
Avon and Somerset Police said there are six properties in Saltmoor that they have been unable to contact because of inaccessibility caused by the floods.
Bryony Sadler, who lives at Moorland, said: "We are evacuating. We are just trying to get out, because there is going to be nothing left, absolutely nothing."
John Rowlands, from the Environment Agency, said: "It is very rare that we issue a severe flood warning.
"It really is pretty desperate. We really cannot stress highly enough that this is a risk to life and property now and people really should now start to take action, if they haven't already."
Roads impassable
First Great Western said the train line between Castle Cary and Taunton will be closed for the rest of Wednesday due to flooding.
The A361 between East Lyng and Burrowbridge has been cut off during much of the flooding over the past month.
Other roads in the area that are closed include the A38 between Taunton and Wellington.
Somerset County Council has issued several warnings for flooded roads in the area which are now impassable.
Motorists are being urged not to travel unless absolutely necessary.
"High winds and driving rain are making driving conditions difficult across Somerset," a police spokesman said.
"Many roads in the area are impassable because of trees and branches.
"Other roads also have surface water, which is making driving conditions difficult, as heavy rain sweeps through the whole of the Avon and Somerset Police force area."