Yeovil to Exeter line reopens after landslip at Crewkerne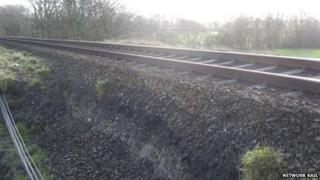 The railway line between Yeovil and Exeter - which closed following a landslip on Saturday - has reopened.
The landslip at Crewkerne, and flooding near Bridgwater and Athelney cut off Devon and Cornwall from the UK network.
Network Rail initially said the line would be closed for "at least a week", but following an inspection it said trains could run at a reduced speed.
Following a delay due to a signalling issue, a limited service is being restored between Exeter and Waterloo.
The rail operator said work was also progressing to get diverted trains from the Westbury/Paddington line moving on the Yeovil route.
The routes from Bridgwater and Castle Cary are still flooded and are being monitored by Network Rail engineers.
An Environment Agency flood warning for the river from South Perrott to Thorney remains in place.
First Great Western has urged passengers travelling in the South West to check with them when planning their journeys.
Floodwaters continue to rise on the flood-hit Somerset Levels after further heavy rainfall overnight.
Water levels have increased by about a quarter of an inch (0.6cm) an hour in Burrowbridge.
Two severe flood warnings are still in place for Moorland and the A361 from East Lyng to Burrowbridge.
Police support
Police said despite being advised to evacuate last week, some residents in Moorland were staying put.
Supt Ian Wylie said: "We are making sure they remain supported."
Farmers in the areas at risk are still struggling to find places to put their livestock.
The National Farmers Union has set up a telephone helpline for those who urgently need to move animals.
Spokesman Paul Cottington said: "We are trying to match up people who have feed, bedding and space for animals with people who need it."
Supermarket chains Asda and Tesco have offered the services of their truck fleets in the area to farmers affected.
Tesco director of agriculture Tom Hind said: "We have heard that some farmers have struggled to find vehicles to deliver the feed they need for their animals, so we're making our truck fleet available to any farmer who needs transportation."
Asda Bridgwater's Laura Hackling said: "Our community is in crisis so we want to help."
UKIP leader Nigel Farage visited the Somerset Levels earlier.
Speaking in Burrowbridge, he said the government's response to the flooding was "too little, too late".
Communities Secretary Eric Pickles says the government "made a mistake" and should have dredged the Levels.