Earth bank built to protect Bridgwater from flooding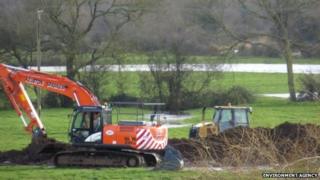 An earth bank has been built to protect the town of Bridgwater, on the edge of the Somerset Levels, from flooding.
The Environment Agency said an "earth bund" had been built between the Bridgwater and Taunton canal and the River Parrett in Huntworth.
A spokesman said it means "outlying properties in Bridgwater are not at risk".
The agency says water levels on flood-hit Northmoor are continuing to rise, but at a slower rate than on Sunday.
On Currymoor water-levels are dropping at the rate of 1mm an hour, a spokesman said.
Somerset County Council said a further 20,000 sandbags were ready to be deployed after staff and Royal Marines from 40 Commando had spent the weekend preparing them.
Council leader John Osman said: "Our main aim is to keep residents and their property as safe as possible.
"These additional 20,000 sandbags will help towards these efforts.
"Floodwater is still rising and more than 150 homes are at risk of flooding in Somerset.
"We are working tirelessly, 24/7, to ensure residents are safe, our roads are as clear as they can be in these difficult circumstances, schools are open, school buses can operate and vulnerable people receive the care and services they need."
A Ministry of Defence spokesperson said: "Military personnel, currently mostly Royal Marines, continue to provide support in Somerset in areas affected by floods as part of cross-government and multi-agency relief efforts.
"As the prime minister has said, all available resources are being brought to bear to help those still struggling as a result of the floods."
Two severe flood warnings are still in place for Moorland and the A361 from East Lyng to Burrowbridge.