Army veteran Justin Weldon and Stephen Waters jailed for attack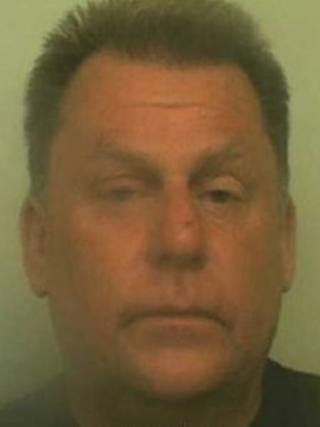 An "outstanding" army veteran who brutally attacked a man in a "humiliating" assault has been jailed.
Former sniper Justin Weldon, 37, and Stephen Waters, 55, attacked Graham Slade in Weston-super-Mare, Somerset, on 9 August.
Weldon and Waters carried out the assault after a dispute over unpaid loans, Avon and Somerset Police said.
Weldon was jailed for four years and Waters for four-and-a-half years at Bristol Crown Court.
The court heard Weldon, who had carried out six tours of Northern Ireland, and Waters met Mr Slade at a pub in the seaside town.
'Crawled like dog'
But the meeting, at Claremont Vaults, turned violent, with Weldon slamming Mr Slade's head on to a table and Waters punching him repeatedly in the face.
The men then drove Mr Slade to Kewstoke Quarry, a lock-up garage, and forced him to crawl inside on his hands and knees "like a dog".
His mobile phone was confiscated and the pair then locked the door - leaving Mr Slade in the unit for several hours.
When the men returned Mr Slade was hit over the head with a wine bottle and was threatened with a lit gas heater.
Mr Slade was driven away from the lock-up and "ejected" from the car on Monks Hill in the town, having suffered a broken nose, severe bruising, swelling to his face and a cut palm.
Weldon, of Highbury Road, Weston-super-Mare, and Waters, of Brean, were later arrested.
The men both admitted assault occasioning actual bodily harm and false imprisonment.
On sentencing Judge Michael Longman said the ordeal would have been "terrifying" for Mr Slade.
He added: "This was calculated to cause Mr Slade fear as well as humiliation."
'Tempers lost'
Jason Taylor, representing Weldon, said his client had served with the British Army until 1999 and was described as "outstanding" in all his performance reviews.
Weldon then went into business with Mr Slade in April 2013, believing they could turn over £2m a year.
"As time went on and the contracts weren't coming, Mr Weldon decided that the best course was to try to dissolve the business partnership," Mr Taylor said.
Avon and Somerset Police said Mr Slade had racked up huge debts, and had been reported to have been charged £1,000 per-day interest on a loan.
The force said it was following a dispute over these unpaid loans with Weldon and Waters that the assault happened.
Representing Waters, who was the subject of a suspended sentence at the time of the incident, Stephen Mooney added: "When one considers how matters arose, there's a degree of culpability in Mr Slade in creating an environment in which tempers were likely to be lost."
Upon release, both men will be required to adhere to a restraining order, which prevents them from having any contact with Mr Slade or his family for 10 years.