Royal Bath and West Society sets up fund for farmers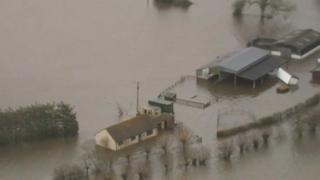 A fund has been set up by the Royal Bath and West Society to help farmers affected by flooding get back to normal when the water recedes.
The fund is in response to a call for help from the county's agricultural businesses.
It will run alongside the Somerset Levels Relief Fund.
The society's chief executive said: "All the charities are talking weekly to ensure there isn't a crossover."
'Take action'
She added: "The Somerset Farmers' Fund is not emergency relief.
"It won't be a quick fix - if the grass grows and it is still under water, the water will kill the grass."
The society is liaising with other charities including the Farm Crisis Network, the Royal Agricultural Benevolent Institution, the Addington Fund and the Somerset Community Foundation.
Edwin White, chairman of the society's Agricultural Policy Group, said: "As a condition for providing emergency financial support, the government has asked for a 20-year action plan with matched funding covering all aspects of flooding in Somerset.
"The fact the Society launched this self-help fund l has put us in good stead as we have shown we were able to take action ourselves.
"It is about Somerset and its communities helping itself."