Taunton Brewhouse community group given keys to theatre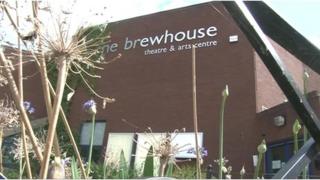 A community group chosen to reopen a cash-strapped theatre in Somerset, says it has the keys and is "ready to go".
The Brewhouse Theatre was shut last February after its funding dried up but a new lease is under way with the not-for-profit Taunton Theatre Association.
Mark Dawson, from the association, said they were happy with the theatre's good condition "considering its sleep".
Taunton Deane Borough Council is likely to help fund the group for a year, worth almost £200,000.
'Reduce costs phenomenally'
Conservative councillor Norman Cavill, who is responsible for the authority's economic development, said: "I'm 100% satisfied that Taunton Theatre Association will make it work.
"Like swimming pools, theatres need some support, but with the number of volunteers helping out here it is going to reduce the operating costs phenomenally."
The theatre will reopen its doors in April with a show celebrating 25 years of the Taunton Scout and Guide Gang Show.
According to Mr Dawson there is still a lot of work to do including checking and replacing all of the equipment.
"We have got a business plan that has been scrutinised by the local council. They are happy with it, we're happy with it, so yes I think we're ready to go," he said.