Bishop of Bath and Wells home relocation plan goes ahead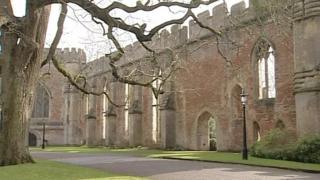 Controversial plans allowing the new Bishop of Bath and Wells to live away from his traditional palace residence are to go ahead, it has been announced.
Church Commissioners said his ministry "should not be encumbered" by a high level of public access to his home.
The plans had been opposed by Wells MP Tessa Munt who gathered a 2,000-signature petition claiming the plan would make the bishop less accessible.
The Diocese of Bath & Wells also said it was disappointed with the decision.
Some 61,100 people visited the Bishop's Palace last year, where the bishop has lived in a modest flat in recent years.
It had been argued the Right Reverend Peter Hancock would have more privacy if he lived away from the palace and gardens.
But those against the plans argued that moving him would "distance [the church] from the very folk it says it wants to attract".
A statement from the Church Commissioners said they had discussed the views of those opposed to their decision and acknowledged the strong feelings that the decision had aroused within the diocese.
A group will now consider alternative uses for the palace apartment and formally confirm their decision to the Bishop's Council in the diocese.
Bishop Peter will be formally enthroned at Wells Cathedral in June and will work at the palace alongside the Bishop of Taunton.
The Diocese of Bath & Wells said in a statement it regretted the Church Commissioners' "unwillingness" to respond to requests to further discuss the issue.
A spokesman said: "We understand that the Bishop's Council has 28 days to respond to the Church Commissioners.
"The Diocese of Bath & Wells remains focussed on offering a warm welcome to Bishop Peter Hancock and his wife Jane, and we regret this unnecessary delay in resolving the matter of their housing."