Blue Anchor sea wall defence plans submitted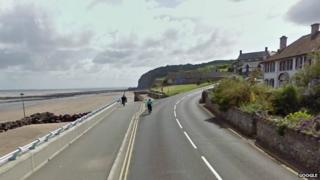 Plans for a sea defence scheme to protect part of the coastline in Somerset have been submitted to the Environment Agency.
West Somerset Council, with the support of Somerset County Council, has bid for £570,000 to extend the sea wall between Blue Anchor and Watchet.
The council hopes the "substantial" scheme, which includes securing the cliff face, will help stop erosion.
The Environment Agency is due to make a decision by April.
'Quite scary'
Local people said recent storms had accelerated erosion.
Simon Strom, landlord of the Blue Anchor Hotel, said: "Over the last two or three months we've lost three or four metres. It's quite scary.
"If they don't shore it up we've just got to sit here until the hotel falls in."
West Somerset Council said it hopes the bid will provide enough funds to extend the sea wall protection, provide rock armour to break up the power of the waves as well as pin specific sections of the cliff to improve their stability.