Bath's Roman coin hoard project given £372,500 grant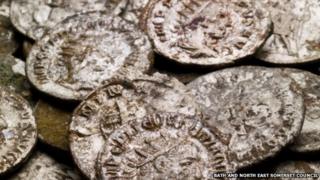 Efforts to buy and display a hoard of nearly 18,000 silver Roman coins have been boosted by a £372,500 grant.
The Beau Street Hoard was unearthed by archaeologists in Bath in 2007 and is thought to be the fifth largest find of its kind in the UK.
It is hoped the coins - some of which date back as far as 32BC - can now be acquired, conserved and displayed at the Roman Baths.
Some £15,000, raised by the public, will be added to the lottery cash.
The Heritage Lottery Fund (HLF) said Bath and North East Somerset Council's project would "help everyone develop a better understanding of one of the most fascinating periods in the history of Bath".
Nerys Watts, head of the HLF in the South West, added: "We're proud to be funding these well thought out plans that will save the collection and ensure that the coins are held locally meaning that people from the surrounding community - as well as visitors from further afield - can learn about and enjoy them long into the future."