Somerset floods crisis cost council about £2m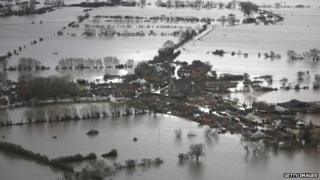 Somerset County Council is expected to claim about £2m in government support to help with the costs of dealing with the Somerset Levels floods.
The local authority said it wanted to apply for funds via the Bellwin Scheme, which gives emergency funds to councils during bad weather incidents.
A cabinet meeting earlier also revealed the military would not charge the council for its help during the crisis.
Further details of the claim are yet to be made, the council added.
Since last year, large parts of the Somerset Levels have been left under water following heavy rainfall.
The floods left villages isolated, with several homes and businesses also evacuated.
Farmers have also struggled to deal with flooded fields, ruined crops and the costs of moving livestock away from the affected areas.