'Thousands' flout Bath's Dorchester Street bus gate rules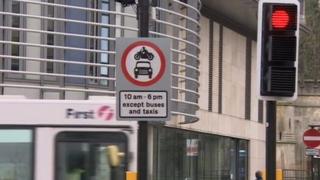 About 8,000 drivers have been caught driving through one of Bath's bus gates since it was introduced in January.
All motor vehicles, except buses and taxis, are now banned from using the eastbound side of Dorchester Street.
People have been sent warning letters but £60 fines are soon to be issued to anyone caught ignoring the rules.
Bath and North East Somerset Council said the trial would run for six months before a decision was made on whether the gate should remain.
The city has one other bus gate in operation - between Northgate Street and Pulteney Bridge. It was introduced in 2001 and enforcement cameras installed in 2006.
A BBC Freedom of Information Act request last June revealed that between 1 May 2012 and 30 March 2013, 7,284 drivers had paid a fixed penalty fine.
There were 13 successful appeals and 684 pending.