Priddy Sheep Fair will not take place this year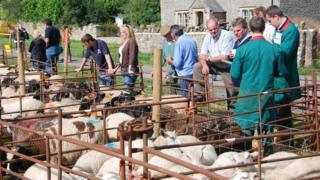 An annual sheep fair that is one of Somerset's most ancient events "has fallen victim to changing times" and will not go ahead this year.
The Priddy Sheep Fair is believed to have been held in the village since the 1300s and normally happens in August.
But the parish council and the Sheep Fair Committee say it "can not be sustained in its current format".
Organisers said the decision had not "been taken lightly" and they were aware of the long history of the fair.
The fair moved from Wells to the Mendip Hills village in 1348 because of the Black Death, although evidence has been found of a fair being held in Priddy before that.
In a statement, Priddy Parish Council and the Sheep Fair Committee said the break would give them the chance to consider "the best way forward".
It added the fair was "an integral part of Priddy, but which has fallen victim to changing times and circumstances".
"Increasing external pressures such as health and safety requirements and public safety considerations have added to the pressure on the committee to the point where it has become organisationally and financially unsustainable for a small community like Priddy to continue the event in its current format," they said.
The committee said the cost of road closures, previously free until 2013, would be £1,000 in 2014 - the equivalent to 15% of its income.
There have been previous cancellations - most recently in 2012, 2007 and 2001.