Somerset M5 pile-up: Inquest told of gunpowder smell and wall of smoke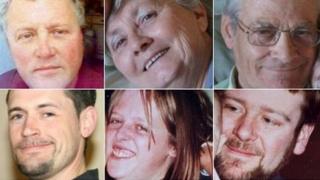 Witnesses to a motorway accident in Somerset which claimed the lives of seven people have told an inquest of a smell of gunpowder and a "wall" of fog.
Some 30 vehicles crashed in fog in November 2011 on the M5 near Taunton.
The inquest was paused after Geoffrey Counsell, the organiser of a fireworks display, faced health and safety breaches. He was later cleared.
Seven people died and 51 were injured in the crash, which happened close to junction 25 of the motorway.
Following the trial, West Somerset coroner Michael Rose said he intended to resume the inquest.
The inquest heard from a series of witnesses who all drove past Taunton on the motorway within an hour of the crash.
Lorry driver John Krostovnikoff was heading to Staffordshire from Exeter when he suddenly hit a wall of thick fog just after 19:00 GMT.
"It was unusual because you normally see it coming but it was clear, then like going through a wall - it was very dense," he said.
'Smelled of sulphur'
Sainsbury's delivery driver Ian Thorne, who had been returning to his depot in Taunton, said: "It wasn't very good visibility.
"I could see fireworks and then I could see the smoke they were giving off and I could see it was going to the direction of the motorway.
"It was white but I could see through it but I could also see it was 200 yards thick. It smelt of gunpowder."
Andrew Bibbings, an off-duty Avon and Somerset Police officer, described his journey as "foggy".
He said his car headlamps did not penetrate the smoke, which he said smelled of sulphur.
"There is quite a difference between fog and what I consider to be smoke," he added.
The inquest at Taunton Crown Court is expected to last several weeks.
Those who died were:
Michael Barton, 67, and his daughter Maggie, 30, from Windsor in Berkshire
Grandparents Tony and Pamela Adams, from Newport in south Wales
Battle re-enactor Malcolm Beacham, 47, from Woolavington in Somerset
Lorry driver Terry Brice, 55, from South Gloucestershire
Lorry driver Kye Thomas, 38, from Cornwall