Minehead hospital injury unit closed at night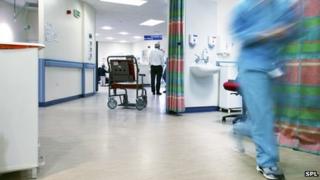 Staff shortages have forced the overnight closure of a minor injuries unit in Somerset.
Minehead Community Hospital opened three years ago at a cost of £23m, but since March its minor injuries unit has closed between 23:00 and 07:00.
Somerset Partnership NHS Trust said it was recruiting more specialist nurses and should reopen overnight in August.
West Somerset MP Ian Liddell Grainger has pledged to write to the health secretary about the matter.
'Tired service'
The Conservative MP said: "They used to shut this [Minehead] periodically, and in fact more regularly than you can imagine, because they said they didn't have the staff.
"Twelve years on, with a brand new hospital, we are back to square one and it is not acceptable to the people of Minehead and West Somerset."
On Monday, more than 300 people attended a public meeting organised by local businessman Bryan Leaker.
He said: "Three years ago, we had a fantastic service in a tired building, we now have a fantastic building with a very tired service."
Sue Balcombe, the trust's director of nursing, said: "We are experiencing problems with recruiting emergency nurse practitioners who are very specialist.
"When we looked at Minehead, we recognise there are peaks in the summer, with Butlins and holidaymakers, but in the winter months the attendances do drop considerably, and in the overnight hours we're talking about one or two patients attending the minor injuries unit."