Somerset council spends £330,000 to boost GCSE grades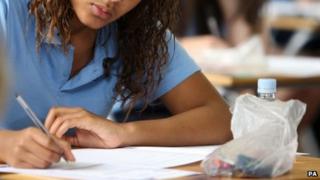 Education experts are being brought into secondary schools in Somerset to improve GCSE grades in five subjects.
Somerset County Council is spending £330,000 to improve teaching methods and leadership within schools.
Steps are being taken after latest Ofsted ratings showed grades had remained below the national average over the past three years.
The council has also said not enough secondary schools have been judged to be good or outstanding by Ofsted.
Expert advice
The council's Learning Achievement Operations Director, Paul Nugent, said: "We're 2.7% below the national average at GCSE and not enough of our schools have been judged good or outstanding."
The national average for five or more GCSE A*-C grades is 81.8% and Somerset achieves 79.1%.
Out of the 38 secondary schools in the county, 37 have joined the Somerset Challenge scheme.
One school, not named by the council, has opted out due to the additional workload it would place on staff.
The money will go on bringing highly qualified teachers into the county and on staff training.
Known as National School Leaders, they will advise head teachers on how to better lead the school.
They will also will share expertise with teachers on how subjects can be taught more effectively to pupils and therefore improve grades.
The number of school leaders brought in will depend on what schools need.
Tony Bloxham, the principal at Preston School in Yeovil and the chair of the Somerset Association of Secondary Head teachers, said: "The quality of student outcomes is closely linked to the quality of leadership and that is why there is significant focus on improving leadership and learning from some of the best in the country."
The council is aiming to improve grades of GCSE results by 5% in five subjects, including Maths and English, to grade C or higher.