Somerset M5 pile-up inquest: Concern over fireworks distracting drivers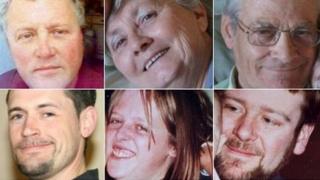 An organiser of a bonfire event on the night of a fatal motorway pile-up told an inquest he was worried the fireworks may have distracted motorists.
Thirty vehicles crashed on the M5 near Taunton, Somerset, in November 2011, leaving seven people dead.
The crash happened at 20:20 GMT, five minutes after the event finished at the nearby Taunton Rugby Club.
Club committee member, Michael Taylor also said he could hear "explosions from the direction of the motorway".
'Strong wind'
In a written statement to the inquest, Mr Taylor said: "There were concerns that the fireworks may have distracted motorists as clearly there had been a massive accident.
"I could hear explosions coming from the direction of the motorway but we didn't really know what was happening."
Last year, the man in charge of the fireworks on the night, Geoff Counsell, faced health and safety breaches. He was later cleared.
Club general manager, Stephen Sanger-Davies told the inquest he tried to establish that public liability insurance documents were held by Mr Counsell but he had not personally seen any documents.
Mr Sanger-Davies told the inquest at Shire Hall, that he had met Adrian Gridley, Avon and Somerset Police's events planning officer a month before the event.
He said: "He was already aware of the layout of the rugby club and I understand that he had attended on a number of occasions.
"His only concern was if there was a strong wind towards the motorway then we should move the fireworks further away.
"He seemed quite affable about the event taking place."
The inquest at Taunton Crown Court is expected to last several weeks.
Those who died were:
Michael Barton, 67, and his daughter Maggie, 30, from Windsor in Berkshire
Grandparents Tony and Pamela Adams, from Newport in south Wales
Battle re-enactor Malcolm Beacham, 47, from Woolavington in Somerset
Lorry driver Terry Brice, 55, from South Gloucestershire
Lorry driver Kye Thomas, 38, from Cornwall