Haynes Motor Museum re-opens in Sparkford after revamp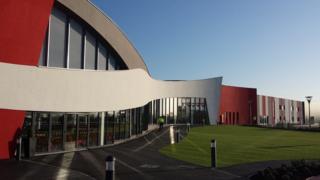 Haynes Motor Museum in Somerset has officially opened three new exhibition halls after a three-year revamp project costing £5m.
The museum project took 10 years to plan and the new spaces house some 400 cars and motorbikes from all eras.
Chairman of the museum, John H Haynes, OBE, said: "Now that space is longer an issue I'm looking forward to continuing to build the collection."
Mr Haynes first opened the museum in 1985 with a collection of 33 cars.
The £5m project was funded privately and the museum, based in Sparkford, now has a new building facade in the shape of car.
The new exhibits are based around themes such as American Dream, Dawn of Motoring and a room dedicated to Speedway motorbikes.