Flooded church in Moorland opens for Easter service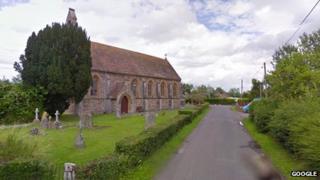 A church in a Somerset village which was badly flooded earlier this year has held a special Easter service.
Although St Peter and St John's Church in Moorland was not as badly affected as some of the nearby homes, villagers have been unable to worship there.
The service was taken by Rector of Moorland, the Reverend Jane Haslam.
Ms Haslam said although the Victorian church still needed more work, the repair team had worked hard so Sunday's service could go ahead.
"It is around three months since we have had a service in there," she said.
"There was a foot to 18 inches of water in it at one point - not as much as many of the houses, but enough to do some damage."
The Bishop of Taunton, the Right Reverend Peter Maurice, also joined the Easter Day worshippers.
Children from a nearby school in Bawdrip have made sure the churchyard is full of flowers and last week members of the small congregation took an Easter egg to every house in the village.
"The village is full of skips and rubbish and debris. It is just nice to have some sense of life and colour," Ms Haslam added.
Large parts of the Somerset Levels spent much of the winter of under water after the South West of England was battered by high winds and heavy rain.
Dozens of roads were flooded and communities cut off.