Somerset flood-damaged memorial work under way in Moorland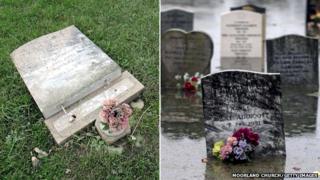 A village church at the centre of the winter flooding on the Somerset Levels is leading the efforts to repair and renew a number of its damaged graves.
At the peak of the three-month flood crisis only the top of some of Moorland church's memorials could be seen.
When the water receded, 10 stones were left in need of urgent repair after cracking and toppling over.
Under normal circumstances, the fixing of a damaged memorial would be the responsibility of the connected family.
But the Reverend Jane Haslam said bringing about the repair work was something the church could do to help the community.
Rev Haslam said: "Faced with something on this scale, with everything else that's going on, we just felt the best thing we could do as a gift to people from the church, was take this on board and get the help we needed.
"It's lovely to now hear the work being done and it means so much to the people of this community."
A stone masons from nearby Bridgwater is giving its time for free to carry out the work, with the costs being covered by the church, two grants and some insurance money.
The flooding began at the end of last year when prolonged storms led to some 11,500 hectares (28,420 acres) of the Somerset Levels being inundated with water for much of the winter.