Sky 1 sitcom's cafe set for Taunton's Hamilton Park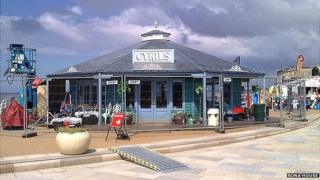 A specially constructed cafe for a now-cancelled TV sitcom looks set to re-open in a park.
The blue building, featured in Sky 1 show The Cafe, may be re-located to Hamilton Park in Taunton, Somerset.
The half-hour comedy, starring Ralf Little from The Royle Family, was set in and filmed in Weston-super-Mare and ran for two years.
A planning application to re-erect the cafe in the park will be decided on by Taunton Deane Borough Council later.
The 11m (36ft) octagonal Cyril's' cafe, which featured in 13 episodes of the show, was sited on Weston's seafront.
When the series was cancelled last year, the cafe - which boasts a veranda and dovecote turret - was put into storage before now being offered to the Taunton group.
'Pile of wood'
"We were very lucky in that we could muster a few volunteers, a couple of the biggest articulated flat-bed lorries and get the whole thing picked up from Bristol," said Judy Gaden, chair of Friends of Hamilton Park.
"We'd only seen it as a set on TV. So to see it all flat-packed, deconstructed in great big piles in this warehouse - it was the worst pile of wood you have ever seen in your life," she said.
The "very substantial building" comes with everything used in the programme, including a boat shed.
"The cafe has been fitted out internally with taps and sinks, but of course none of those are working," Ms Gaden continued.
"It's just a mammoth project but once it's done we will still be calling it Cyril's - after the man in charge of the parks department at Taunton Deane, Cyril Rowe."
If approved, the group are hoping to re-erect the building in the summer and staff it with young unemployed volunteers looking for hands-on experience.
Ms Gaden said she would be looking for "an army of volunteers" to help with re-constructing the building, which was collected at the end of November and stored in a council yard.