Gerry Cottle urges circus performers to boycott Britain's Got Talent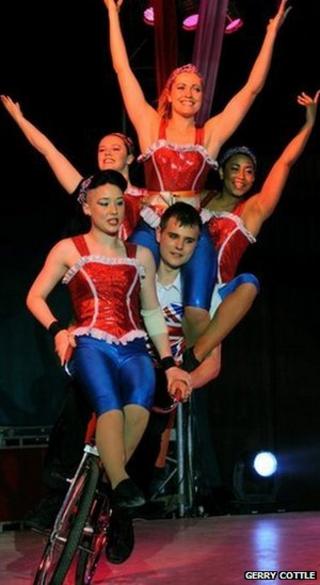 Circus owner Gerry Cottle is urging fellow performers to boycott television show Britain's Got Talent after he claims his troupe was treated unfairly.
Mr Cottle, 67, wrote an open letter to arts magazine The Stage in which he claimed circus acts invited to perform are "like lambs to the slaughter".
He said his two-minute act was cut to 20 seconds and its music was altered to give the wrong impression of circus.
Britain's Got Talent said it was not always able to show auditions in full.
A spokesperson for the production company Thames said the troupe had made no complaints or comments at the time of the audition, which aired on Saturday, or since.
'Forthright views'
The programme, on ITV, sees acts performing in front of judges Simon Cowell, Alesha Dixon, David Walliams and Amanda Holden.
Mr Cottle's troupe, The Wookey Hole Turbo Jets, perform a routine which culminates with seven people riding one bicycle.
Three of the four judges voted the act through to the next round, however Mr Cottle said they had not been invited back and he would not return even if invited.
In his letter, he said researchers from the TV show came to see his troupe perform in Hammersmith and invited them onto the programme.
He was asked to devise a two-minute version of the act which he choreographed using modern upbeat music.
When the programme was shown, Mr Cottle said he "was horrified" as the two minute routine was reduced to 20 seconds and the music was replaced by an old fashioned circus song.
The performance drew negative comments from Simon Cowell who said he did not like circuses.
"If Simon Cowell doesn't like circuses and he hates these type of acts, why on earth do his researchers contact every circus in the UK asking them to perform on Britain's Got Talent?" said Mr Cottle.
"They are just like lambs to the slaughter and this will seriously damage our business."
A spokesman for the programme said: "Simon is known for having forthright views but his comments were a judgement on the act and were not meant to be taken personally.
"Unfortunately we aren't always able to show acts full auditions due to time constraints of the programme."