Porlock oyster and mussel farming trial begins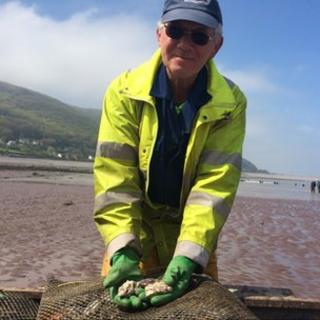 Volunteers have begun putting oyster and mussel beds into the sea in a Somerset village as part of an initiative to revive shellfish farming.
The trial is taking place in Porlock Bay, where the harvesting of oysters died out almost 100 years ago.
If the two-year trial is successful, the group intends to set up a business.
Roger Hall, from Porlock Bay Shellfish, said the project, costing almost £17,000, aimed to revive an ancient tradition.
"In the 19th Century, when oysters were the food of the people, there are reports that when they were discovered in the Bristol Channel, they saved Porlock from starvation.
"With the advent of the railway from Minehead in 1874, a market for the oysters was found in London, and Porlock oysters attained a national reputation for quality and taste.
"But in the late 19th Century, the Porlock oyster industry was stopped short, amid reports of ships from the east arriving and systematically emptying the oysters beds in the channel."
The new oysters have come from Morecambe Bay in Lancashire.
The trial at Porlock Weir has been funded by Porlock Parish Council and Exmoor National Park.
If it is successful, the group says it intends to set up what will be the first "community sustainable shellfish farm" in the UK.