Oldfield School head teacher Kim Sparling resigns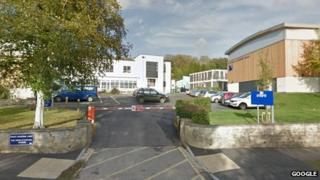 The head teacher of an academy school in Bath has resigned.
Pupils were told of Kim Sparling's departure from Oldfield School during morning assembly and a letter has been sent to parents.
In 2012, Ofsted rated the school as "outstanding" but an inspection report from December raised issues over "leadership and governance".
The announcement comes ahead of a meeting called by the chairman of governors Stuart Weatherall.
In the letter sent to parents, and seen by the BBC, Mr Weatherall said Mrs Sparling had resigned "with effect from 30 April".
'Staff complaints'
"In the interests of the school, all associated with it and Mrs Sparling, the resignation has been accepted," Mr Weatherall wrote.
"A recruitment process will be undertaken with a view to appointing a new head teacher to lead the school forward.
"Matthew Woodville will continue to hold the position of acting head teacher.
"The governing body is fully committed to working to address all concerns that have been raised," the letter added.
During Ofsted's inspection in December, the education watchdog received "a number of complaints from staff" but said some fell "outside its remit".
Leaked report
Inspectors said the "quality of leadership and management" needed "further improvement".
A more in-depth draft Ofsted report was leaked by a children's charity, but as it was never officially published its contents cannot be reported for legal reasons.
Ofsted later issued a letter, known as a section eight report, but this did not elaborate on what specific problems the academy faced.
Oldfield School has also been visited by the Educational Funding Agency and is awaiting its report.
It converted to an academy in February 2011 and caters for 775 students aged 11-18.