Yeovil Town FC: Club withdraws plans for superstore on training pitch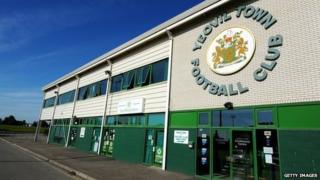 Yeovil Town Football Club has withdrawn plans to build a retail superstore on land near its Huish Park ground.
The Glovers had wanted a new all-seater stand to be paid for by allowing the store to be built on a training pitch.
But the plan met some opposition and the club said it now accepted an alternative scheme was needed to get the support of planners.
Club chairman Jon Fry said he believed the new plans would help generate income for the club.
"With the introduction of financial fair play to all clubs it is absolutely vital to generate more commercial income streams at the club and we feel our new proposals will be able to do that," Mr Fry said.
"Yeovil Town Football Club has put this town on the national and international map after its season in the SkyBet Championship and it is imperative that we maintain that momentum."
In April the club was given more time by South Somerset District Council to change plans for the store in a bid to satisfy the concerns of councillors.