Somerset army captain killed by gunshot wound to the head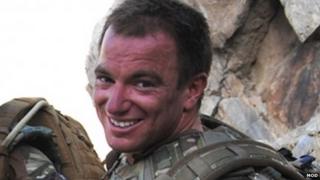 An army captain from Somerset died of a single gunshot wound to the head in a toilet block at a British military base in Afghanistan, an inquest has heard.
Captain James Townley died just after one week of serving in Helmand province the day before his 30th birthday.
The inquest in Wells heard from Captain Timothy Barker who found the soldier in the early hours of 21 September 2012.
In a statement taken at the time, Captain Barker said he believed the wound was self-inflicted.
'Normal practice'
Captain Townley lived near Glastonbury and was serving with the Corps of Royal Engineers.
When cross-examined at the inquest in Wells earlier, Captain Barker was asked if it was possible to discharge the pistol accidentally.
He said: "You need positive, conscious thought to discharge the weapon, it is not something you can do by accident."
The coroner also heard from Captain Christopher Finbow who shared an accommodation tent with Captain Townley and slept in the bed next to him.
He said he had only spoken to Captain Townley a couple of times because of the busy nature of the job, but did not think he was behaving oddly.
He said at about 06:30 on that morning he saw him walking out of the tent carrying his pistol.
Asked by the coroner if it was normal to take a pistol to the toilet block with you, Captain Finbow said: "Absolutely, it's normal practice to be armed at all times.
"I would take mine with me as well. It is absolutely standard."
The inquest is expected to hear from more than 20 witnesses over the next five days.