World War One medal war medal reunited with family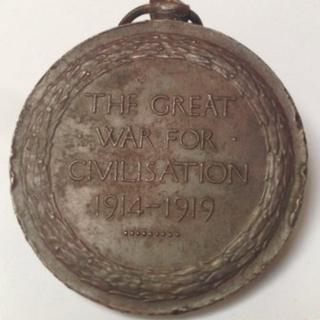 A World War One medal found in a field in Somerset in the 1950s has been reunited with the descendents of its original owner.
David Boswell kept hold of the medal with the inscription Private W. Wareham 5117 until handing it to Bath Museum earlier this year.
Graham Winter, a council employee and amateur genealogist, tracked down Pte Wareham's descendents, who have decided the medal can be kept by the museum.
It will go on display next month.
Mr Boswell found the medal in a field near Paulton and kept it in his drawer until he heard about Bath Museum's appeal for World War One memorabilia.
Mr Winter, a health and safety officer at Bath and North East Somerset Council, used parish and service records to trace Pte Wareham's family.
"I discovered that there were two William Wareham's born in 1885 in Green Ore," said Mr Winter.
"This would have meant they would have been old enough to have enlisted in 1906 in the 3rd Battalion of the Somerset Light Infantry."
The Victory Medal was awarded to those who were deployed between 1914 and 1918.
Final link
Mr Winter then checked the 1911 Census and found that one of the Williams was working as a farm labourer.
He said there was no listing for the second William in the death records for World War One.
Marriage registers were checked and Mr Winter found the second William had married Eveline Veasey, in 1935.
After checking birth registers he found the couple had two children, John Veasey, born in 1937, and Kathleen Veasey, born in 1941 at Clutton.
Mr Williams made the final link after speaking to one of his council colleagues with the surname Veasey.
He confirmed the names and put the Veasey family in touch with Mr Boswell.
The medal will be on display in the World War One Remembered exhibition at the Central Library in Bath between 1 to 11 August.
It has not yet been confirmed where the medal will be permanently held.