Somerset flood aid spending too slow - Labour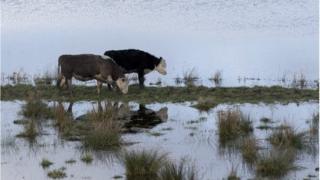 Some £400,000 of a £10m pot allocated to help farmers recover from the winter flooding has so far been spent, a Labour MP has told the Commons.
Shadow environment minister Angela Smith said the slow rate of work made a mockery of the prime minister's pledge to help Somerset farmers.
She said the response was "chaotic".
Environment minister Dan Rogerson insisted money was being repaid to farmers after work was completed, not before it started.
Ms Smith said: "The government's response to the winter floods was slow and chaotic yet four months on... of the £10m pledged to Somerset farmers, only £403,000 has been paid out, and only £2,320 has been paid out to one fisherman in the South West."
The fund has a limit of £35,000 per application. The deadline for the flood grants was 27 June but some farmers have been calling for it to be extended.
Large parts of the Somerset Levels were hit by winter flooding, forcing some farmers to move livestock off the affected land.
Liberal Democrat MP Mr Rogerson said: "Those applications are being approved, they will be paid once the work is carried out.
"Unless you wish to interfere in those farming businesses and tell them they must carry it out in the next week, we will have to wait until the work is carried out before we can pay them."