Catherine Wells-Burr murder: Killer drops appeal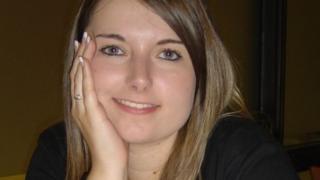 One of the trio convicted of murdering a woman whose body was found in a burnt-out car has dropped an appeal against his conviction and life term.
Catherine Wells-Burr, 23, from Chard, Somerset, was killed in a plot to claim a £123,000 life insurance policy.
Tadevsz Dmyrtszyn lodged the appeal in December but it was dropped on 21 June, the Court of Appeal has confirmed.
Dmyrtszyn, Miss Wells-Burr's boyfriend Rafal Nowak and Anna Lagwinowicz were all jailed for at least 32 years.
Smothered while sleeping
They were convicted of murder in June last year and sentenced to life.
Nowak and Lagwinowicz have applied to serve their sentences in Poland, but Miss Wells-Burr's family has been campaigning for the killers to complete their sentences in the UK.
The family understands the killers' minimum tariffs could be cut to 25 years if they are transferred to Polish prisons.
Nowak smothered Ms Wells-Burr as she slept at their home in Chard in September 2012.
His accomplices, his ex-girlfriend Anna Lagwinowicz and her uncle Tadevsz Dmytryszyn, disposed of Miss Wells-Burr's body in her car before setting it on fire.