M5 crash firefighters given bravery medals by fire service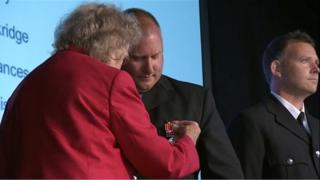 The bravery of 12 firefighters who battled a crash on the M5 in Somerset in which seven people died when 34 vehicles collided, has been honoured.
The men, members of Taunton Blue Watch and Taunton Retained, were first on the scene in November 2011.
Commander Bill Williams said: "I'm humbled to be honoured but our thoughts are with the families of those who lost their lives."
A total of 12 firefighters received the medals at a ceremony in Exeter.
Firefighter Geoff Frances was among those who received a medal.
He said: "It was just Armageddon, it was surreal, it's very hard to envisage what we experienced that night.
"I remember as we went up the slip road, just being met with fire, debris everywhere."
'Personal risk'
Chief fire officer, Lee Howell said: "Our thoughts remain with the family and friends of the people who died and were seriously injured that night.
"It is also important to recognise the actions of our own firefighters, who were confronted by a large-scale incident with multiple vehicles on fire and several people severely trapped.
"They battled selflessly to try to save those trapped and injured, with some individuals taking great personal risk in doing so."
Although there are long service and good conduct medals handed out by the service, this is the first time it has produced this bravery medal.