Taunton Wessex Water project completed two months early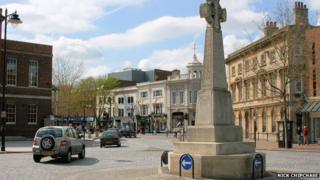 A £16m water pipe project in Taunton has finished two months ahead of schedule, Wessex Water has said.
The water company has taken more than two years to complete the work putting in 31 miles (50km) of new piping.
Phil Luxton from Wessex Water said: "There will be a reduction in discolouration events some customers would have experienced in the past."
Motorists had faced long delays and disruptions during the work and some bus journeys also doubled in time.
Mr Luxton said: "It would have only been in the event of a burst or a fracture on the main that may have caused the discolouration of water."
He said those pipe sections had been replaced, also reducing the possibility of leaks.
The project to improve water quality in Taunton - named Operation Clean and Clear - started in June 2012.
The work involved iron water mains, sometimes more than 100 years old, being replaced or relined with modern plastic pipes.