Dennis France inquest: 'Error of judgement' led to level crossing death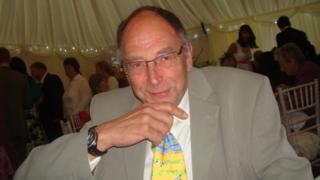 A man who was killed driving through a closed level crossing when he was late for work made an "error of judgement", an inquest heard.
David France died when his car was hit by an oncoming train at a half-barrier crossing near Taunton in March 2013.
Coroner Michael Rose told Taunton Shire Hall Mr France was "influenced by his desire not to be late for work," because he was a stickler for time.
The inquest jury ruled the security guard's death was accidental.
Mr France, who was just a week away from retirement, was stuck at the crossing at Athelney by barriers that were down for longer than usual, although they were not faulty.
In what the coroner described as "a tragic accident" the inquest heard how Mr France decided to drive around the barriers - which only covered half of the road.
"Very proud"
Mr Rose used a Network Rail estimate of 103 seconds of how long Mr France waited before crossing.
He then asked jurors to sit in silence for that period of time to give them Mr France's perspective.
The coroner will now write to Network Rail to recommend installing a full barrier crossing and moving signal boxes to improve visibility.
Mr France worked at Debenhams head office in Taunton for 23 years and had always arrived on time for work.
His friend Alison Chedham, said: "He didn't want to let his workmates down he always said to me if he was late for work then the person who had been working all night was late home."
Speaking of the inquest conclusion she added: "Clearly Dennis made a mistake, made an error of judgement which we all do at times, fortunately it doesn't always cost us so dearly."
A Network Rail spokesman, said it was determined to close as many level crossings as possible and has pledged to shut a further 500 crossings by 2019.