Somerset County Cricket's Old Pavilion hosts final game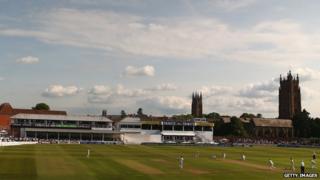 A 133-year-old pavilion at the County Ground in Taunton will be used for the last time before being knocked down on Monday to make way for a new stand.
Somerset Cricket Club's Old Pavilion was built in 1881 and is located on the south side of the ground.
The new £3.8m Somerset Pavilion will be built in its place enabling the club to host international matches.
Chief executive, Guy Lavender said: "I'm very sad really to see it go, it's loved by many for very good reason."
"It's one of the best places in the world to watch cricket, that's no word of a lie," added Mr Lavender.
"It's a brilliant view, it's brought people many happy memories over the years but its time has come."
The final match will be played on Thursday between Somerset and Middlesex in the County Championship.
The new development has been met with mixed response by some cricket fans - as the structure, made mainly out of wood - is considered part of the charm of watching matches at the County Ground.
Mr Lavender said the club wanted to "maintain and keep the ground as a beautiful place to come and watch cricket".
The new Somerset Pavilion will have a media centre with a rooftop area and restaurant facilities.
Seating capacity will also increase from 825 to 1,312 seats across two levels.
"We are the envy of many counties particularly in terms of our finances and in terms of the way the ground looks, and this building will be the core of that," Mr Lavender said.
Work will start at the end of the 2014 season and the major construction work be completed by next Spring.