Somerset children's homes close over 'safeguarding concerns'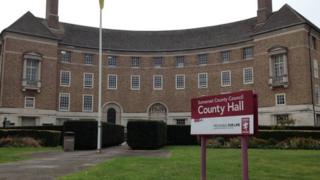 Two Somerset children's homes are to close after concerns were raised over the way they have been run.
West End Cottage at Chedzoy near Bridgwater and Appledore, near West Pennard, will be shut. Staff and residents were notified on Thursday.
Somerset County Council said it was "due to poor management, sub-standard care and concerns over safeguarding".
The council said a total of five residents would be moved to new accommodation over the next few weeks.
The BBC has learned that concerns were first raised in an anonymous letter sent to the council in January.
'Considerable concerns'
The council's chief executive, Pat Flaherty, said the council had commissioned a report into safeguarding at one of the homes.
"It has raised considerable concerns for us, to such an extent that - coupled with question marks over management and the level of care we are providing - that the right decision is to close it and the other home," he said.
"In particular, the standard of care was disappointingly low in some areas, and the management was not robust enough to understand that and deal with it."
Mr Flaherty said the council intended to close the homes "as soon as we have fulfilled our obligations to engage and consult with all those involved".