A Victorian postbox threatened with removal, is to be left on Bath building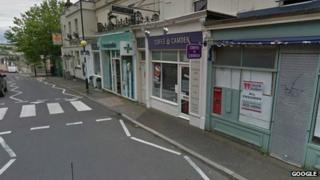 A Victorian postbox threatened with removal from a former post office in Bath, has been granted a reprieve.
The building's owner, Harish Raichura, had wanted Royal Mail to move the 140-year-old box to a "more convenient site" on Camden Road.
But Royal Mail wanted to remove it altogether, according to Mr Raichura, so he has decided it should stay.
A Royal Mail spokesman said: "We are delighted he has decided to retain the historic postbox in his premises."
The oak-panel lined letter box, was installed in the 1870s and has remained on the wall of the post office since its closure in 2008.
Mr Raichura, who plans to open a new business in the building, wanted it moved as it was taking up "valuable shop frontage".
"We never intended to remove the box from this area but relocate it," he said.
A spokesman for Royal Mail said: "We will be working closely with him [Mr Raichura] on the planned refurbishment to ensure the postbox is carefully removed and reinstated into the shopfront wall."
Colin Alexander-Jones, from Bath, who says his great-grandfather first placed it there, said it was "wonderful news" that it was staying.
"I promised my mother I would fight to make sure it remains where it is - so I'm glad."