Debt-ridden Weston General hospital faces takeover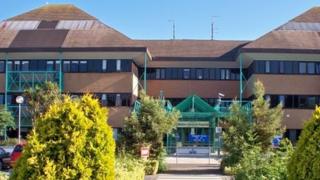 Weston-super-Mare's debt-ridden hospital may be taken over by a neighbouring foundation trust.
Taunton and Somerset NHS Foundation Trust has set out its business case, which will now be assessed by the summer of 2015.
Weston General has been running at an annual loss of £5m for several years.
Nick Wood, the chief executive of Weston NHS Trust, said the outcome was "very much unknown and will not be known for some time".
The two other trusts who submitted a formal expression of interest were Somerset Partnership Foundation Trust and University Hospitals Bristol.
Weston's MP John Penrose said Taunton's bid to run the hospital was "an important step in the right direction".
"Combining with Taunton will mean our hospital will have a stronger voice in the new, bigger organisation," said Mr Penrose.