Dairy farmers stage milk price protest at Morrisons depot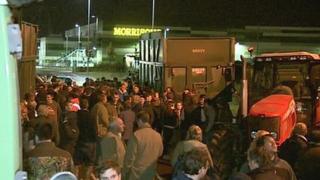 More than 100 farmers have staged a milk price protest outside a Morrisons distribution centre in Somerset.
Up to 70 tractors were used to blockade two entrances to the depot near Bridgwater, on Wednesday night.
Farmers For Action, which organised the protest, claims farmers will go out of business unless they are paid a "sustainable milk price".
Morrisons claims it "has no control" over the price farmers are paid for their milk.
With fresh price cuts announced last week, the amount farmers receive for their milk has been cut each month for the past four months.
'Utter rubbish'
Some farmers now say they face revenue losses of up to 25% and the National Farmers' Union (NFU) has urged supermarkets to pay more for milk.
Morrisons said there had been a global collapse in milk prices and it "has no control over farm gate prices [the price farmers get for milk]."
"The UK milk market is now fully integrated into the global market and therefore subject to global forces," a spokesman said.
But David Handley, chairman of Farmers for Action, said the claim the supermarket has "no impact on farm gate prices" was "complete and utter rubbish".
"We need to get back above our cost of production figure of 30p, at least then we start a sustainable milk price," he said.
"We cannot go where we're going at the moment; there's a lot of producers in this country now as low as 25p and falling."
A similar protest was held in Market Drayton, Shropshire on Monday when hundreds of farmers blockaded the Muller Wiseman plant.