Musgrove Park eye op problems caused by 'number of factors'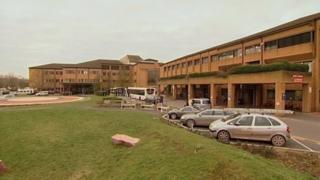 A report into eye operations by a private provider that left the sight of some patients damaged has said a "number of factors" were to blame.
Cataract eye surgery was carried out by Vanguard Healthcare at Musgrove Park Hospital in Taunton in May.
The hospital said there was "a higher-than-expected number of complications" surrounding the operations.
The trust said the details had been shared with patients but were unable to share the findings with anybody else.
'Very real problems'
A spokeswoman said there were "legal issues" surrounding sharing the report with the media and the public.
A solicitor acting for Musgrove patients said his clients suffered "very real problems" and claimed the severity of the failures "have been downplayed" by the trust.
Laurence Vick, of Michelmores Solicitors, said it was "imperative" that the report was released to the public.
Patients are entitled to a "candid explanation" of why the problems occurred, he added.
Earlier this year, the hospital trust appointed Vanguard to clear a backlog of people waiting for the cataract operations.
Apology to patients
Vanguard Healthcare explained the operations were conducted by highly-qualified and experienced surgeons, approved by the hospital.
"As with similar ophthalmic incident clusters there is no clear single cause for the range of problems our patients appear to have experienced following surgery in the Vanguard mobile theatre," said the hospital.
"Instead, we have identified a number of factors which may have led to the unusually high level of complications seen.
"We are very sorry for those patients who have experienced problems and for any anxiety and distress this may have caused them."