Taunton 'high quality' business park plan unveiled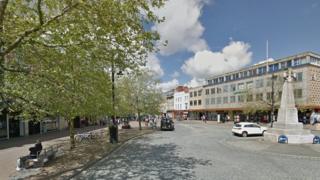 Ambitions to create 4,000 jobs on a "high quality" business park in Taunton have been unveiled by Taunton Deane Borough Council.
Earlier business and council leaders announced plans for the site, which would be built next to the Park and Ride site close to the M5 motorway.
The aim is to attract national and international firms which offer more well-paid skilled jobs.
If the idea wins government backing it could be built by 2020 at the earliest.
'Absolutely critical'
Taunton Deane council leader, Conservative, John Williams said: "What we are trying to do is encourage the government to invest in junction 25, in the A358 - then once you see that happening, you will know the business park is on its way.
"There is no other land close to the major national road network that we are told is absolutely critical to the success of Taunton and they [businesses] want to be outside the county town."
The A358, which connects the A303 at Ilminster to the M5 in Taunton, is an 11-mile single carriageway road that is often congested at peak times.
Mr Williams added the next stage was to lobby government with the aim of getting it included in the government's Autumn Statement.
Peter Brett Associates was also commissioned to investigate the need for this business park and potential hurdles.
Mary Crew from Peter Brett Associates said the focus was to attract "high quality jobs", something the council and business leaders had identified as an issue.
She added: "Taunton has a problem attracting high-wage earners and keeping them in the area."